Solution Focused Leadership Coaching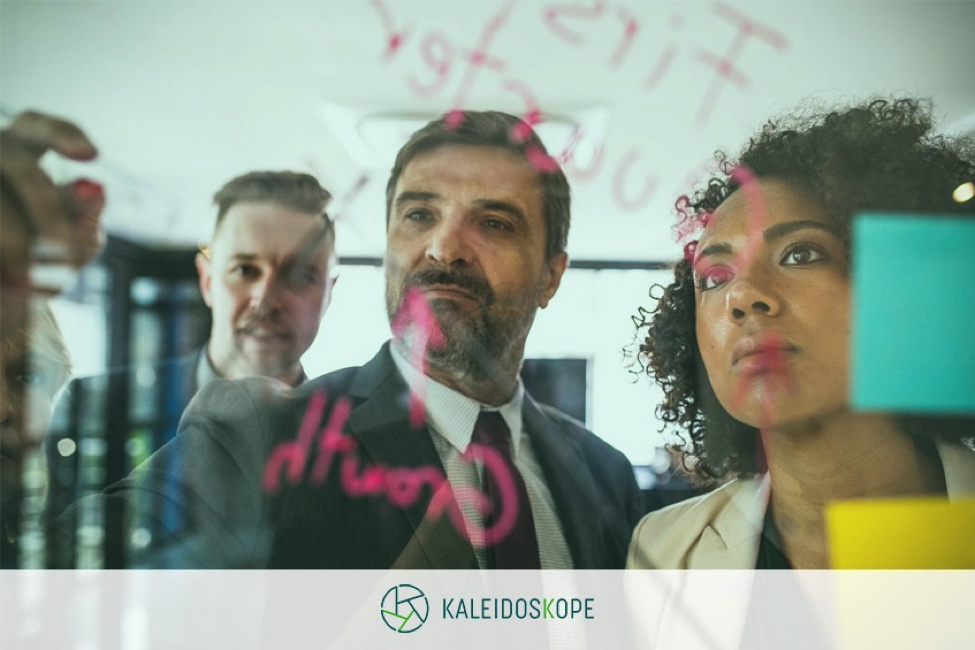 Coaching is a powerful way to help employees unlock their potential. And this necessitates a high-impact leadership training, particularly in Singapore's fast-developing business landscape.
Most coaching methods focus on solving a "problem", rather than building the solution.  It's an easier approach. If you hit the Search button for "Employee Coaching" online, the first few options that pop up promise you to teach you "how to fix performance problems".
But here at Kaleidoscope, we take a different route.
Instead of looking at weaknesses, or "performance problems", our Solution Focused approach looks to the future, the coachee's strengths, and their goals. By empowering you to look at your own capabilities instead of where you're currently stuck, we build a map of actionable and sustainable solutions.
How is Solution Focused coaching different from other approaches?
A trained Solution Focused coach uses a strength-based approach to address solutions rather than problems. The spotlight is shifted from the problem to the solution.
When we de-link the problem and the solution, identifying the root cause of the problem becomes secondary, and the conversation focuses on the solution. The coaching conversation goes on to explore "What's Wanted" instead of "What's Wrong".
It can be difficult to distance the solution from the problem.
A Solution Focused coach, therefore, might ask what a coachee has done successfully in the past, perhaps in similar situations, or what does the future look like …when the problem is resolved.  By focusing the conversation perhaps on a coachee's past successes, or a positive future, a Solution Focused coach surfaces the coachee's resources and abilities, empowering the coachee, and helping him understand that they are already on the way to finding solutions.
The dialogue is focused on helping the coachee form a clear picture of their preferred future, instead examining their problems under a microscope.
The coachee's insights are built as a result of the dialogue that takes place during coaching, which is why we say that a Solution Focused approach is about building solutions.
Let's see a recent, real-life demonstration of this …
Mr. Tan, a senior director at a public sector organization, recently found out that his team was very unhappy with his level of engagement through the results of a 360-interview.
As the interviews were in written form, there was no platform for Mr Tan to defend, or oppose to these criticisms.  During the coaching session, Mr. Tan started getting defensive in explaining why his employees were unhappy with his performance. "The millennials in my team are really problematic … these guys take things for granted, they come in late and leave on time," he says.
I observed very clearly that a wall of defensiveness was in construction.  The rapport I had built with him at the start of the conversation was crumbling. I flipped the 360-feedback booklet over and took the conversation in a new direction. "Mr Tan, you've been with the organization for a long time.  There must be something you enjoy doing here to have stayed for 32 years. Are you still happy here?"
There was silence. Mr Tan looked at me, a little stunned, then his eyes slowly looked away and gazed out of the window. I waited. After a while, he finally spoke, sounding resigned.
"You are right. I'm not happy."  
"Yet you have chosen to stay for 30 years. Let's suppose you are happier somewhere else, what would you be doing differently?"
"I'd be retired, spending more time at home. But my wife … she doesn't like me to be at home. She only likes my supplementary credit card." It was clearly a very sensitive topic and a tender moment. Mr. Tan was nearly in tears.
"How would you like your relationship with your wife to be like instead?" I watched him visibly perked up as he excitedly started talking about the "good-old days".
As we progressed in the conversation, he became slowly aware that his relationships with people, including his wife, were very transactional. The clearer he was about where he wanted to be in the future, the more driven he was to improve his relationships with people now.
The first step in his journey was thinking about how he could show more affection for his wife (isn't it always? …happy wife, happy life), closely followed by how to bridge relationships with his younger team members.
This is what we meant by de-emphasizing problem solving.
Through asking questions, and guiding the conversation to raise his awareness rather than be fixated on fixing the problems, Mr. Tan was given space away from the overwhelming negativity of his problems, and brought to a place where he could generate his own solutions.
Paradoxically, by focusing less on problems, we expand the possibilities and create more sustainable solutions.
Who Should Learn Solution Focused Coaching?
Anyone can benefit from Solution Focused coaching, no matter where you may be in your career, or which rung you are on the corporate ladder.
This coaching approach helps coachees realize their full potential, and employees break through self-imposed limits.  Solution Focused coaching is an ideal approach in today's fast-paced world. The concept is simple and straightforward.
Most importantly, Solution Focused coaching creates a hopeful and positive environment that empowers instead of overwhelms.
If you'd like to train solution-focused coaches in the house at your organisation, send your enquiry to us at Kaleidoskope, today.
Start Your High-Performance Learning Journey
WITH KALEIDOSKOPE NOW!