Lessons from Leaders Born in the Year of the Rat
As we step closer into the Year of the Rat, let's take a scamper through history and have a quick glance at what are some of the examples, or lessons people born under the Chinese zodiac sign of the Rat can teach us about leadership.  
A lot, it seems, because if the stars are to be believed, Rats are destined for success, especially in business and politics.
The Rat personality is resourceful, versatile, and sharp. Rat people are among the zodiac's most hardworking and ambitious. They are imbued with boundless energy and distinctly focused on personal goals.
Their innate attention to detail and organisational talents make them effective leaders. Perfectionists that they are, Rats, as managers, are seldom easy to please. However, since they impose the same high standards on themselves, they earn the respect and loyalty of others easily.
In the spirit of the Chinese New Year, we've picked some notable personalities that embody the propensity for leadership and success of those born in the Year of the Rat. Whether or not you share this sign, chew on this, or ask us what we can do for you.
Galileo Galilei
15 February 1564—8 January 1642
"All truths are easy to understand once they are discovered; the point is to discover them."
His single-mindedness in pursuing knowledge has made Galileo an icon of instructional leadership, which is characterised by "an intense moral purpose focused on promoting deep student learning, professional inquiry, trusting relationships, and seeking evidence in action," according to professor and author Helen Timperley.
In the millennia before Galileo's time, Geocentrism was central to people's belief.  The Earth was the centre of the universe around which all heavenly bodies revolve.  
This theory was taken as fact and fully supported by the Catholic Church.  When Galileo supported, and was able to show proof of an alternative view, he was summoned, and subjected to the Roman Inquisition.  He was declared a heretic for disputing the Holy Scriptures. Under duress, Galileo stopped teaching his theory but, 300 years later, the Church admitted he was right all along.
What if Galileo had learnt about managing conflict, he would acquired valuable insights on conflict awareness, balancing between pull and pushing strategies, and harnessing the power of emotional intelligence to conflict resolution.  Perhaps Galileo could've been saved from the Church-imposed house arrest he had to endure for many years until his death.    
Jorge Mario Bergoglio
17 December 1936—present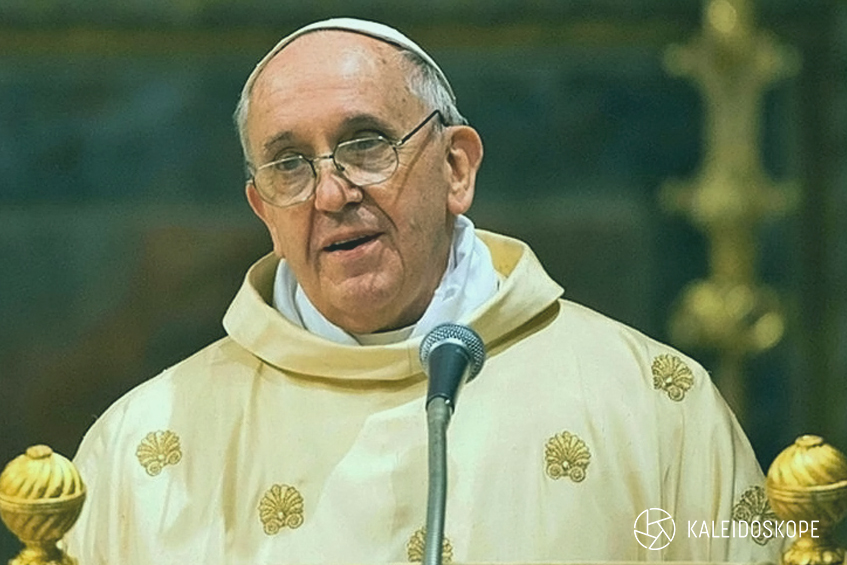 "There is a need for financial reform along ethical lines that would produce in its turn an economic reform to benefit everyone. This would nevertheless require a courageous change of attitude on the part of political leaders."
Since he was elected Pontiff in March 2013, Jorge Bergoglio has been defying the world's pre-conceived notions of the papacy. Pope Francis first broke convention by appearing on the balcony of Saint Peter's Basilica in a white cassock instead of the more elaborate ceremonial vestments.  
That was a start that would mark his papacy.  The 266th head of the Roman Catholic Church adopts a transformative approach to leadership.
And a significant part of his tenure was the restructuring of the Vatican's financial system, with the objective to create a more open and transparent financial environment. 
Pope Francis' continued to adopt a leading through change approach, leading the Catholic Church in a world of accelerating change, volatility and ambiguity.  His tenure was characterized by humility, outspoken support of the world's poor and marginalized, and also a new and active involvement in the areas of political diplomacy and environmental advocacy.
He was also focused on ensuring that the Church is more accessible, more welcoming and relevant in the changing times.  
William Shakespeare
26 April 1564—23 April 1616

"Let none presume to wear an undeserved dignity. O that estates, degrees, and offices were not derived corruptly, and that clear honour were purchased by the merit of the wearer!" —from The Merchant of Venice
William Shakespeare is arguably the greatest writer in the English language. A playwright, a poet, and a dramatist, he wrote at least 38 plays, 154 sonnets, and several poems. By and large, his works are among the gold standards for creative writing.
Shakespeare died at age 52, but his legacy lives till today. What is now "standard English" is owed largely to Samuel Johnson's A Dictionary of the English Language published in the 18th century, in which Shakespeare's works were among the main sources.
Shakespeare certainly had a lot of insights into leadership.  Whether it is the ambitious and amoral Macbeth, the indecisive Hamlet, or King Lear who failed to watch out for yes men (and women), there is no lack of leadership lessons we can draw from his works.
Between writing, producing, and even playing major roles in his own plays, Shakespeare would have found our workshop on managing time and priorities very useful.  Perhaps he may even have churned out more works for our enjoyment today!
Sundar Pichai
10 July 1972—present
"As a leader, it is important to not just see your own success, but focus on the success of others."
At least 300 million people have Google Chrome as their main browser, and more than 800 million actively use Google Drive. At the helm of developing these products, as well as other Google software, is Sundar Pichai—current CEO of Alphabet and Google LLC.
This Gen-Xer born in the Year of the Rat founded his career on engineering and product management, which eventually led him to join Google in 2004. There, he led the development of the company's suite of applications, including Chrome OS, Gmail, Google Maps, the VP8 video codec, and WebM.
Pichai is an innovator and an astute strategist whose management style is credited for pushing Alphabet into the trillion-dollar club just recently. He practices what he preaches, living by his leadership mantra "to not only see his own success, but to focus on the success of others".  HIs people-centric style is all about building his team to be the best versions of themselves.  
Building high performing teams, coaching team members to be high performing individuals, and motivating them to be successful – precisely what our programme on leading and managing teams is all about. The workshop is focused on teaching leaders or managers to create high performing teams through building, coaching and motivating individual team members together to get behind organisational goals.
Shirley Chisholm
30 November 1924—1 January 2005
"Women in this country must become revolutionaries. We must refuse to accept the old, the traditional roles, and stereotypes."
Women born in the Year of the Rat tend to be traditional and more family-oriented, according to the Chinese zodiac. But if she were alive today, Shirley Chisholm would be the first to object. Chisholm was the first woman and the first African-American woman to run for US president.
In 1950s America, when conformity with traditional gender roles was the norm, Chisholm was already a recognised authority on child welfare and early education. In 1968, she became the first black woman elected into US Congress, representing the 12th District of New York for seven terms.
In the context of the prevailing culture of conservatism that Chisolm had to work with, she has clearly demonstrated the effective influencing strategies outlined in our programme. Chisholm ran for president in 1972 under the Democratic Party, becoming the first woman to participate in a presidential debate. She was both a transformational and democratic leader—breaking female stereotypes and fighting racism. Throughout her political career, Chisholm worked to raise the national budget on social services, especially on education and health care.
Although the world has changed a lot since the 1950s, leaders and managers today will still find our approach to driving through unpopular, foreign ideas, or policies very relevant.  
Fate Vs. Fortitude
In explaining leadership in terms of nature versus nurture, experts often refer to two opposing theories. Great Man theory proposes that leaders are born, not made; some people have genetic capabilities that make them excel in their field. Conversely, behavioural theorists say that becoming a leader requires keen observation and learning, training and practice.
In our current world of disruptive transformation, continuous improvement and constant innovation are key to keeping abreast of rapidly developing technologies. While one cannot discount the age-old wisdom behind the Chinese zodiac, we at Kaleidoskope believe that success is dependent on a person's willingness to better themselves.
Do you have what it takes to be a leader? 
As Nobel Prize-winning philosopher Albert Camus said, "Life is the sum of all our choices." So, if you're ready to become an effective leader in the face of rapidly changing organisational landscapes, ask us, and we'll send you scurrying off on your journey to high-performance learning. 
Start giving your staff LEARNING THAT STICKS