Engaging Your Teams in the Year of the Ox
February 12, 2021 marks the start of the Year of the OX. It is the second animal on the Chinese zodiac and denotes hard work, positivity and honesty. 
At Kaleidoskope, this is also the time when we take stock of things, reflecting on the past year and what's to come. In the Year of the Metal Ox, it is, literally, about taking stock, livestock to be precise. 
Livestock is responsible for 14.5 percent of all global greenhouse gas emissions, according to the United Nations' Food and Agriculture Organisation. Over half of that comes specifically from cows which in the process of digesting their food, also pass gas and belch. This produces a large amount of methane – a potent greenhouse gas – which is then released into the environment. 
Ruminants such as cattle, buffalo, sheep and goats produce nitrous oxide, carbon dioxide and methane which are the most emitted gases. One of the ways to fight global warming could be through one less belch at a time.  
Climate change presents a new challenge to the global environment. We are seeing more frequent and intense droughts, storms, heat waves, rising sea levels, melting glaciers and warming ocean which wreak havoc on livelihoods and communities. 
In Singapore, food waste is a significant environmental concern and forms one of the five largest waste streams. Over the last decade, food waste has grown by around 20 percent. According to a study by Singapore Environment Council, the value of food wasted is estimated to be $342 million a year, or the equivalent of 68.4 million plates of Nasi Lemak. 
It is not surprising then that despite our very small geographical size, we contribute around 0.11% of global emissions. 
So why should all these be of any concern to a local learning and development company? 
In 2021, Kaleidoskope is pleased to partner a group of individuals who are passionate about wanting to share their experience about the environment and related issues. They believe that we must take action to protect our planet, no matter how small that first step is. While it is not always possible to reverse the damage that has been done, it is not impossible to mitigate, lessen and ease the burden that we have been putting on our natural environment. 
Our team of experts will be working with our clients to explore environmental, social, and governance (ESG) employee engagement issues.  These have become increasingly central to an organization's reputation and financial performance. Notably, it has become increasingly the subject of great interest and scrutiny by key stakeholders, investors, ratings agencies, clients, and government authorities.
Yet, there has been little or limited attention paid as to how a company's ESG performance can impact one of its most important stakeholders: its employees. 
Employee engagement is critical to achieving ESG goals.  Many successful global brands have moved beyond informing employees about sustainability initiatives to inspire their participation and drive greater sustainability impact. 
As you look to plan your employee engagement programmes for 2021, you may want to consider their involvement in helping you to facilitate the achievement of your company's ESG goals. 
Here's why employee engagement matters:
When it comes to employee satisfaction, top employers have average ESG scores that are 14% higher than the global average.

Satisfied employees work harder, stay longer with their employer and seek to produce better results for the organisation.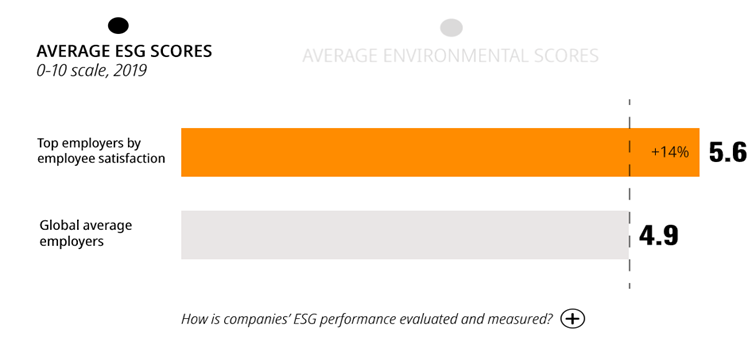 These companies' most attractive students and young professionals ESG score a whopping 25% higher than the global average. 
Today's millennials are at a pivotal point and their growing influence is difficult to deny.  They really do want to work for environmentally sustainable companies.  ESG performance will become increasingly important in attracting and retaining talent in a world where millennials and Gen Z come to make up much of the total global workforce. 
So, if you want to future proof your human resource talent, it is critical that you prioritise ESG as a key part of your engagement strategy.
As you take stock of your employee engagement activities for 2021, do consider giving us a non-obligatory call and find out how we can partner you and your team in creating meaningful ESG activities.
Start Your High-Performance Learning Journey
WITH KALEIDOSKOPE NOW!